Dhtml Website Navigation Menu by Vista-Buttons.com v5.7
Welcome To Mr. Gym.com! Please take time to see UPDATES Below.

My goal is to provide one of the most comprehensive Elementary Physical Education and Secondary Physical Education resources available on the internet. On this site you will find a wide variety of elementary physical education games, including cooperative games and activities, sports games, lead up activities, and much more. Furthermore, you will find ideas on elementary physical education assessment, field day ideas, cheap or free physical education equipment, created and compiled by an elementary physical education teacher with over two decades of experience.
This site will be growing rapidly, however, if you see a game that I have not yet posted, you have any questions about the games or activities posted here, or you have an activity to share please do not hesitate to e-mail me at: <![if !vml]>

<![endif]>
UPDATES:
* VIDEOS of MrGym.com Activities! - I am now in the process of uploading videos of many of the activities listed in my site. These videos show set-up, directions, and actual classes doing the activities. Subscribe to: MrGym.com on YouTube.
* IPad for PE? - Check my PE Technology page out for ideas, and my experience with an IPAD and a few really cool apps that are great for PE teachers!
Product Reviews

TUGBALL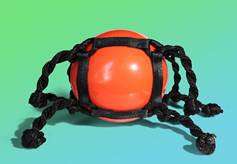 I recently had the opportunity to try out a new product created by a physical education teacher. The new product is called a TugBall. At first, I was a little skeptical about the TugBall and how the kids would like the game. That skepticism left me after playing the game with my first class. I wanted to start the game off with my 5th graders, the highest level I teach. The first class was a little tough, mostly due to my getting a feel for the game and the rules. However, the kids loved it, and by the end of the day, I had the rules and bugs pretty much worked out. I played the game with my 3rd through 5th grades, and each class really enjoyed the game. As you can see by the photo, the TugBall is a ball enveloped in a rope and strap cage, with 8 extending ropes. The premise behind the tugball is that you can add a more upperbody strength workout to a ball style activity, by incorporating tug of war. The first game we tried was the original TugBall game. The game begins with a 2v2 tug of war to determine which team gets possession. The game is then played similar to "speedball" or "rugby". I won't go into all the rules here, but you can find the actual rules and regulations at Tug-Ball.com. I will just say, that the kids loved the game, and I enjoyed the new activity as well. I am definitely looking forward to trying out Vortex; another game for the TugBall. Not to mention several other games in which I intend to incorporate the new TugBall!
Positives:
- Adds great upper and lower body workout.
- The ropes makes the ball easy to throw and catch
- The ropes restrict the flight of the ball, which encourages strategy and teamwork
- I see many possibilities for new activities

BottomLine:
- If you are looking for a new and exciting activity, then you should look into the TugBall. Personally, I suggest buying 4 so that you can play Vortex, as well as opening up options, for other activities (I played a take of off flip me the bird, I name Spider Tag, which I will get into later). A little more than a regular ball, but you gain durability and a lot of new aspects to your activities!
YourFieldDay.com (Gravadi Activewear)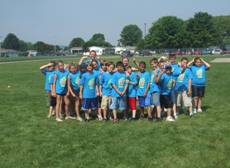 I have used this company for the last 3 years, for my field day shirts. The experience with them is excellent! They worked hard to provide the shirts (over 400 each year!) I wanted and with a variety of colors. I used 7 different color shirts with a variety of colors of the same logo. I got a 4 color logo, for nearly the same price that I paid for a single color logo the year before, from a local company. The shirts arrived ahead of schedule, and received major compliments from parents, staff and students. I highly recommend this company and have every intention of using them again this year. They even offer a free gift with every t-shirt!

About MrGym.com
MrGym.com was is created by a Physical Education teacher, for other Physical Education teachers, students, enthusiasts and anyone interested in the physical fitness of today's youth..
Why: As a young elementary Physical Education teacher, I found myself constantly looking for new games, ideas, solutions to problems, etc. Back then, there was no Internet and personally, It was frustrating getting information from sources that had little or no experience in an actual classroom/gymnasium. Yes, there were great ideas, in theory, but as you know, what looks good in a book or a classroom, may not always work well when implemented into a classroom or gymnasium. Now I do not claim to be the foremost expert on Physical Education, but I do have 26 years of teaching experience. That is 26 years of trial and error work in the field, that with the introduction of the internet, I can share with other Physical Educators. MrGym.com is not just about me trying to share what knowledge I have gained, but is about getting all physical educators to share with each other, with the purpose of improving our physical education programs. Therefore, it is my hope that through this website, physical educators will have an opportunity to share, learn and communicate with other professionals who are "in the trenches" and have time tested ideas and theories that work.
When: MrGym.com first hit the Internet in January of 2004. In 2005, MrGym.com has quadrupled it's 2004 numbers in terms of visitors, hits, and pages viewed, and have doubled the 2005 numbers in 2006. Furthermore, we broke the 1 million hit mark in late September of 2006. In 2007 we had 2.4 Million hits by over 100,000 visitors, and as of May 2008, we have had 2.5 Million hits.
Story Behind the Name MrGym: In my early years of teaching, I taught several kindergarten classes for elementary physical education. One of these classes would greet me as Mr. Jim when they entered the classroom. I found this kind of strange, as my name is Doug. Anyway, this goes on for a short time before I approach their teacher to find out why they are calling me Jim. Upon talking to the teacher, I discovered that the students were told they were going to Gym and since they had never had PE they assumed that Gym (Jim) was my name, so they always greeted me as Mr. Jim (Gym). I thought this was a cool name and it fits this site very well.
Thank you for taking the time to visit MrGym.com, I hope you enjoy our site!