NAME OF ACTIVITY: Trolley Walk
GRADE LEVEL: Any
EQUIPMENT: 2 trolleys, three stars
HIGHLIGHTS: Cooperation, teamwork
INSTRUCTIONS: Place the two trolleys on the start line.  The objective is for the students to move the trolleys as far as possible in their allotted time.  Following are the rules for moving the trolleys.
     1.  All players must be aboard the trolleys in order for the trolley to move.
     2.  All players must have one foot on each trolley.
     3.  If a player falls off a trolley, the trolley must wait until they re board before moving again, but they DO NOT need to start from the beginning.
HELPFUL HINTS: I use the stars to mark where each group ended, so that other groups may have a distance to try to beat.
<![if !vml]>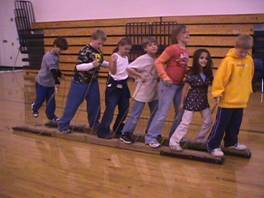 <![endif]>          <![if !vml]>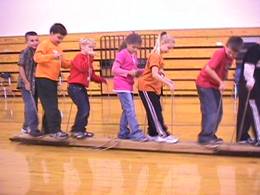 <![endif]>
Field Day Version -