Class Rules
Recess Games




Fitness Trail Work

All-Time D.F.E. Fitness Records
Yearly Top Ten
2011-2012 Top Ten
2010-2011 Top Ten
2009-2010 Top Ten
2008-2009 Top Ten
2007-2008 Top Ten
2006-2007 Top Ten
2005-2006 Top Ten
Duncan Falls Physical Education

Welcome to the Duncan Falls Elementary Physical Education web site! This site is dedicated to providing the students, parents, staff and friends of Duncan Falls Elementary, with up to date information on our Physical Education program. Please take time to view all areas of our web site. We hope you enjoy!
Doug Gates About Mr. Gates
Physical Education
Duncan Falls Elementary
A NEW YEAR! 2016-17
Following a a few of my favorite videos
Here is the awesome volley that I was talking about to my students:
The Jumprope video, may take a minute or two to download.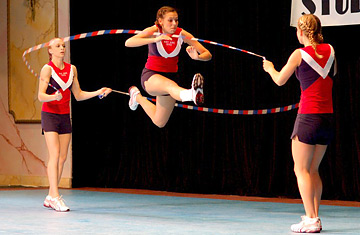 What's New in P.E.
Fitness Trail Construction - Our fitness trail construction has been approved and has begun. I have been working on the trail since August 5th. At this point, The trail is completely laid out with a base coat of screenings. There are 12 stations either completed or in the process of being completed. Phase 1 is what I am working on now (In the White and Red), Phase 2 (Future) is in the Gold, and Phase 3 (Future) is in the blue and would eventually connect to a trail at the high school.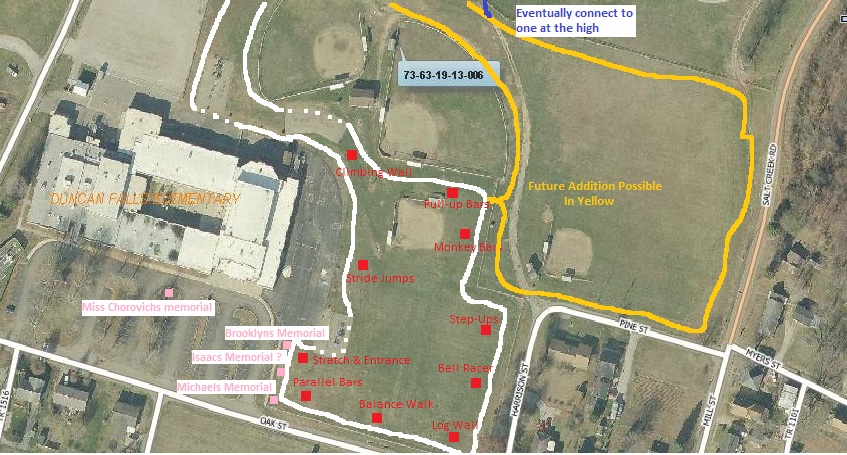 Presidents Challenge Fitness Test - Our fall Physical Fitness test will begin shortly after the year begins. To obtain more information on the Presidents Challenge and or the events involved, please follow the Fitness test link under "Upcoming Events". This year I would like to add height, weight and body fat to our unit. Please do not panic, this part will be totally optional and totally private. You will receive a permission letter early in the year.
P.E. News Room (Duncan Falls Fitness Flash)- This is a new addition to our physical education program, as well as this web site. It features articles and pictures from our physical education students. Click on the headline to check it out!

About Duncan Falls Elementary

Please be patient, This section is currently under construction. Please come back soon! The following businesses have been instrumental in supporting our Physical Education Program.